Slasher movies are formulaic and trashy, but longtime readers know that
I love them
(because I
won't shut up
about
them
). They're good, old-fashioned horror comfort food, like a warm blanket on a cold autumn night. Want a good overview of what makes a slasher a slasher? Check out
Final Girl's Slashers 101 comic book
. Funny and informative (and it's free!)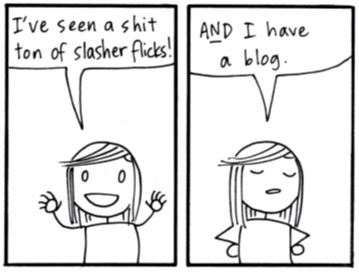 Me too! On both counts! And yet, it's been a while since I really dug into classic Golden Age Slashers (i.e. that 1980-1983 corridor where seemingly hundreds of slashers were made). Sure, I've caught up with one or two here or there, and I've hit up some neo-slashers and proto-slashers, but there have been a few seminal slashers that I've never managed to catch up with. It's about time I rectified that oversight:
Whoa, week 5 is already down? Yikes, this is going fast! Not sure what's up next, but I've got lots of stuff in the queue... In the meantime, check out Zack over at
Film Thoughts
, who is updating nearly every day...