Last week, I hastily threw together a
post on Coke
, including some thoughts on Coke vs. Pepsi, the advertising of both brands, and Passover Coke. I've run across several people commenting on my post or similar issues over the past week.
And speaking of beer, I spent the previous weekend in Cooperstown. Sure, we visited the Baseball Hall of Fame Mvsevm, but the highlight of the trip for me was a visit to the
Brewery Ommegang
. It's a surprisingly small operation, but that makes sense when you realize that it's an expensive Belgian-style microbrew. I'm not a beer expert, but I think I've tried more varieties than your average person, and these are my absolute favorite beers of all time. Ommegang only makes 5 varieties, but they are
all
fantastic. Alas, you have to pay for that quality, but it's worth it. In any case, the tour ends with a beer tasting and you can buy some beer at a slight discount, which I did, giving me this: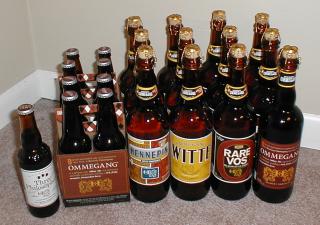 Awesome. Ok, I cheated a little. I already had the normal size bottles on the left, but still, that's an impressive array of beer. Looks like I've got some work to do!