Wednesday, December 11, 2013
Link Dump
Yet more links from the depths of the internet, as unearthed by my chain-smoking monkey research squad:
That's all for now.

Sunday, December 08, 2013
Adventures in Brewing - Beer #12: Red Heady
As mentioned earlier this week, I've attempted to harvest some yeast from old cans of Heady Topper. It seemed to work, though I'm not sure how much I was actually able to grow the yeast. It seemed pretty lethargic to start, it took a few days to seemingly do anything, and while I could see the yeast had grown, I'm still not entirely sure there was enough to be viable for a full batch. I guess there's only one way to find out, eh? I've been toying with this recipe for a hoppy red ale for a while now, and I'm pretty excited to try it out. It's also a batch that doesn't require lengthy secondary treatments (like the
RIS
or
Brett Saison
), so this may be ready by Christmas (red ale for Christmas? Sounds good to me), though I'm pushing it a bit close for that. Anywho, let's get this party started:
Brew #13 - Red Heady
December 7, 2013
0.5 lb. Crystal 60 (specialty grain)
2 oz. Roasted Malt (specialty grain)
3 lb. Briess Golden Light DME
3.3 lb. Amber LME
1 lb. Turbinado Sugar
1 oz. Simcoe hops (bittering @ 12.7% AA)
0.5 oz. Citra hops (flavor)
0.5 oz. Mosaic hops (flavor)
0.5 oz. Citra hops (aroma)
0.5 oz. Mosaic hops (aroma)
1 oz. Citra hops (dry)
1 tsp Bitter Orange Peel
1 tsp Irish Moss
Heady Topper "Conan" yeast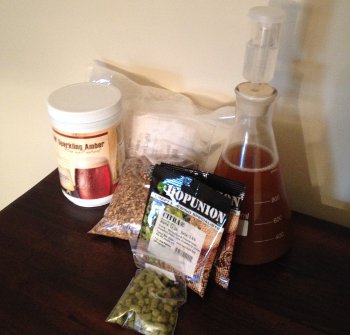 Nothing particularly fancy going on here. Very simple specialty grains for steeping, partly because I just went for the Amber extract (I suppose I could have stuck with all light DME and incorporated the Amber malt directly, but this was easier). The Turbinado sugar is pretty large, I guess, but I should get enough body from the Amber extract and Crystal 60, so that should be fine.
I'd originally planned for a Simcoe and Amarillo hop mix, but apparently Amarillo hasn't made its way to my homebrew shop yet, so I fell back on Citra and Mosaic. Citra has been growing on me of late, and Mosaic is relatively new (released in 2012). Mosaic is apparently the daughter of Simcoe, and it has Simcoe-like properties, but also apparently a wider range of tropical fruit aromas. I'm sure this will turn out fine.
Original Gravity
: 1.065 (about 15.8°Bx). This is just about on target, and should yield something around 7% ABV if all goes well. I am a little worried about the yeast though, so I bought a packet of Wyeast 1056 in case things don't go so well with the harvested Heady yeast. Fingers crossed for a strong ferment!
Up next on the homebrew front is the RIS bottling (hopefully next weekend), and then I'm not sure! I definitely want to do a Barleywine in the same way I'm doing the RIS (split batches, with one bourbon oaked, etc...) And Fat Weekend IPA is also on the schedule. I'm starting to accumulate a bunch of unused ingredients, stuff that's just laying around. Maybe I'll make something called "Clusterfuck Ale" with whatever I have laying around. I definitely want to make an easy-drinking sessionable pale ale for the summer (around 4% ABV). After that, who knows? I may tweak the saison recipe to get more Brett exposure, maybe incorporate some oak into that too. So many ideas, so little time (and only so much liver).
(Cross Posted at
Kaedrin Beer Blog
)

Wednesday, December 04, 2013
Adventures in Brewing - Updates
Homebrewing is not a hobby for the impatient, especially when you get a taste for stuff like funky saisons or oak aged beers. My last couple batches have been such beers, so it feels like I haven't gotten much done lately, though in about a month's time, I'll (hopefully) be awash in more homebrew than I know what to do with. I don't know how curious you are about this stuff, but updates on three batches of beer (two already mentioned, one upcoming) are below. Apologies if this isn't your bag, but hey, there's some pretty pictures you can look at too.
First up,
Kaedrôme Saison
, brewed wayyy back in June, I split the 5 gallon batch into two. Half was bottled in July, the other half was put into secondary and dosed with Brettanomyces,
crossing the Rubicon of Funk
. The first half, a "regular" saison, is drinking rather well at this point, though I'm running a little low on supply. I brought a bomber to Thanksgiving, and the relatively high carbonation and dry palate were perfect matches for the hearty meal. That second half had been slumbering in secondary for about 4 months, after which I figured it was finally time to bottle it.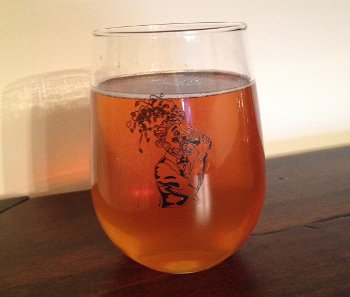 Final Gravity came in at 1.003 (6.2bx), which was a nice decrease from the 1.007 of the "regular" saison. Tasting the uncarbonated stuff, it seemed relatively light on Brett funk, but very dry (as you might expect from gravity readings like that). I was a little worried about bottling this after 4 months in secondary. Would the yeast be up to carbonating this after so long? It turns out that my fears were unfounded. I bottled on 11/16/13, and cracked open a test bottle (that wasn't quite a full fill) on 11/27/13. It wasn't perfect, but it had carbonated a bit, and was very drinkable. Again, it's a little light on the funk for now, but we'll see how it conditions in the bottle. I plan on bringing this to beer club next week, so we'll see how it's doing then.
Now I just need to freak out about all the equipment that touched the Brett. I'm sure I cleaned it all well enough, but it could be a bit nerve wracking because everyone says that Brett is so hardy that it will find a way to survive, like those dinosaurs from
Jurassic Park
. Life finds a way. You can't see me as I write this, but I'm
Goldbluming
right now. It's sad. Anyway, I've ordered up some new tubing and other fittings, so we should be all good. And the old tubing/fittings will be used the next time I feel like making a funky beer (which will probably be sooner rather than later).
Next, that
Russian Imperial Stout
that I brewed a few weeks ago! I checked the gravity on 11/16/13, about two weeks after brew day, and it was still at 1.034, which was much higher than expected (especially after that super vigorous fermentation over the first few days). I decided to give it another week in primary, and opted to bottle Kaedrôme that day...
On 11/23/13, I transfered to secondary fermenters. Final Gravity was 1.031 (14.1 bx), which is still excessively high, but I figure giving this another three weeks in secondary would bring that down to something manageable. I'm guessing it won't get down to 1.023, but if I can get it to drop a few points, I'll be pretty happy with it. As mentioned in the original post, I split the batch into two secondaries, one straight up, the other with bourbon soaked oak cubes. The plan is to eventually bottle some of each, then bottle a blend of the two, yielding 3 total variants. I'm super excited to see how these turn out, but I'm guessing it will need to condition in the bottle for quite some time.
I used Medium Toast American Oak, and soaked it for two weeks in Evan Williams 2003 Single Barrel Bourbon. I boiled the oak for a few minutes up front to sanitize and get rid of some of the harsher tannins, then put them in a mason jar with bourbon. Here's a pic of when I first put the oak in the bourbon: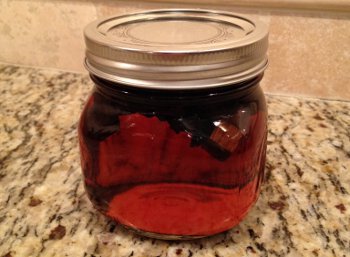 And below is a pic after a few days. Note how much darker the bourbon got. The comparison isn't super fair because of the cap on the mason jar and the fact that some of the oak was sinking as it got saturated with bourbon (both of which are blocking some of the light and making it seem darker), but even when I hold it up to the light, it's noticeably darker. That medium toast is doing its thing, I guess.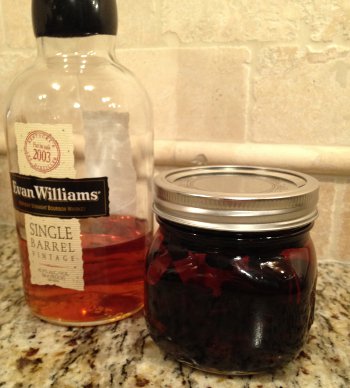 This is shaping up to be my most interesting batch to date. Can't wait to see how it turns out, and I'm really hoping for great things. Bourbon Barrel Stouts have become a true favorite of mine, so being able to produce something like that myself will be great.
Finally, another mad scientist experiment. I had some cans of
Heady Topper
left over from
Operation Cheddar
. Heady is, of course, a damn near perfect DIPA, and while I'm sure their hop charges, sourcing, and selection are superb, I think the thing that really separates Heady from the rest of the world is its yeast strain, the fabled "Conan" yeast that supposedly emphasizes the juicy citrus flavors in the hops. For some ungodly reason, neither Wyeast nor White Labs have cultured this yet (and they don't have anything comparable*), so I thought I'd harvest the yeast dregs from a couple cans of the stuff and see if I could whip it into shape.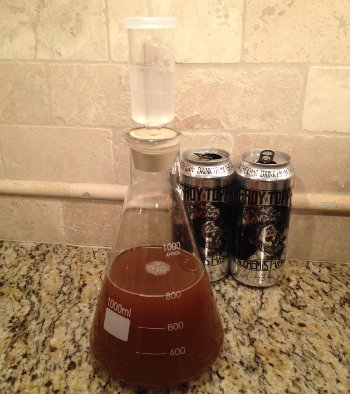 I was a little worried at first, as I saw no signs of activity for at least three days. But before I could properly despair, I started to see some bubbles (it turns out that this delayed start is common amongst those of us nerds who have tried harvesting Heady yeast). Soon, I could see that the yeast had grown, and the fermentation was visible. Score. I'm going to crash it tonight and give it just a teensy bit of extra wort tomorrow night to get it into shape for brew day on Saturday. I'm planning on making a hoppy red beer (planning on Simcoe and Amarillo as the hops, but we'll see what my local shop has in stock). Wish me luck.
So it's going to be an interesting few months. If this Conan yeast thing works out, I'll try using it for the annual Fat Weekend IPA as well. And if the oaked RIS works, I might whip up a barleywine this winter and do the same thing...
*
East Coast Yeast
makes a Northeast Ale (ECY29) that is rumored to be based on Conan, but it's hard to come by...
(Cross posted at
Kaedrin Beer Blog
)

Sunday, December 01, 2013
Link Dump
Hope everyone had a great Thanksgiving. Here's some links to be thankful for:
And that's all for now...

Sunday, November 24, 2013
Men, Women, and Chain Saws
In 1980, Gene Siskel and Roger Ebert hosted a special edition of their Sneak Previews PBS show, and used the opportunity to decry an emerging "Women in Danger" genre of horror thrillers:
It's important to note that this was only the opening salvo of exploitation horror. New technology, changes in distribution, the continuing emergence of independent filmmaking, and a host of other factors lead to a glut of popular yet despised horror films. The dominant sub-genre of these films was the Slasher film, but Siskel and Ebert were talking about this so early in the process that the much maligned sub-genre hadn't even been named yet. There is something prescient about the two film critics putting this episode together when they did. The heyday of the slasher was only beginning and would last another three years before it even started to subside.
Indeed, it must have been more than a little odd to have been present while all of this was happening.
I actually
like
slasher movies
and have watched a lot of them during my annual
Six Weeks of Halloween
horror movie marathon, but even I would probably have had a different reaction back in 1980. Apparently one of the things that prompted Siskel and Ebert to dedicate a show to the behavior of the crowd during the film
I Spit On Your Grave
, as they shouted and cheered the rape sequences in the film. That has to be a disturbing way to watch a movie. But with time and perspective, things have changed a bit.
Enter Carol Clover, a Professor at UC Berkely, who wrote several essays on horror films that have since been collected in the book
Men, Women, and Chain Saws: Gender in the Modern Horror Film
:
This book began in 1985 when a friend dared me to go see The Texas Chain Saw Massacre. I was familiar with the horror classics and with stylish or "quality" horror (Hitchcock, De Palma, and the like), but exploitation horror I had assiduously avoided. Seeing Texas was a jolting experience in more ways than one. (Page 19)
Alerted to the genre, she started to explore territory she had avoided, and "against all odds" she has "ended up something of a fan". She certainly doesn't go too easy on the genre, and in many ways, her critiques mirror Siskel and Ebert's, but perhaps with the perspective of time, she has also found value in these films, and she did so at a time when they were universally reviled and never given much of a thought. Her essay on slasher films first appeared in 1987 (just as the genre was in its final death throes) and was revised in this book in 1992, and immediately changed the landscape. In this essay, Clover coins the term "Final Girl", and notes that even if audiences identify with or cheer on the killer early in the film, they always experience a reversal as the Final Girl fights back. Reading this now, it seems odd that anyone would be surprised that a male viewer could relate to a female protagonist, but this was apparently a surprising thing that people were still working through. As
Erich Kuersten notes
: "I wasn't afraid
for
girls, or
of
girls, I was afraid
through
girls."
Again, the fact that Clover finds value here does not mean she's blind to the issues with slasher films, but she also thinks its worth discussing:
One is deeply reluctant to make progressive claims for a body of cinema as spectacularly nasty toward women as the slasher film is, but the fact is that the slasher does, in its own perverse way and for better or worse, constitute a visible adjustment in the terms of gender representation. (Page 64)
Clover's slasher essay shines a light on a reviled sub-genre, and is clearly the centerpiece of the book, but there are several other chapters, all filled with similarly insightful looks at various sub-genres of horror. In one, she tackles occult films, with a focus on possession films like
The Exorcist
, and contrasts with the slasher:
It is in comparison with the slasher film that the occult film (above all the possession film) comes into full focus. Both subgenres have as their business to reimagine gender. But where the slasher concerns itself, through the figure of the Final Girl, with the rezoning of the feminine into territories traditionally occupied by the masculine, the occult concerns itself, through the figure of the male-in-crisis, with a shift in the opposite direction: rezoning the masculine into territories traditionally occupied by the feminine. (Page 107)
I don't always buy into all of this, but then, I came of age when all these films were playing on cable. I grew up with strong Final Girls, so the notion that "strength" would ever be "gendered masculine" seems a little silly to me, but perhaps 30-40 years ago, that was not the case (and vice versa for the male-in-crisis movies). I probably never would have used the same terminology or articulated in the same way, but I've clearly internalized these notions.
There is a chapter on Rape Revenge films, which I am actually not very well versed in (because I was reading this, I watched
I Spit On Your Grave
this year), but which makes a fair amount of sense. It's easy to see why these movies are controversial, especially something like
I Spit
, but Clover manages to find value in these films (one of which includes the all male
Deliverance
) and makes all sorts of clever observations about commonalities in the genre (in particular, there isn't just a male/female dichotomy in these films, but also a city/country or sophisticated/redneck component to the rape and revenge). Finally, there is a chapter on "The Eye of Horror", which spends a lot of time looking at perspective shots and "gazes."
It's a fascinating book, filled with interesting observations and a motivated perspective. There are certainly nits to pick (for instance, at one point, she claims that Werewolf stories are about a fear of being eaten by an animal, which I guess is there, but the real fear is becoming a werewolf yourself, losing control, being overwhelmed by your animal desires, etc... The enemy within, and all that...) and I don't always agree with what she's asserting, especially when she starts down the rabbit hole of Freudian analysis and some of the broader topics like "gazes" and "rape culture" and so on. I could quibble with some of her key films in each chapter (she perhaps overestimates
The Texas Chainsaw Massacre 2
and its impact on the genre, though it's clearly a great example for Clover's thesis) and the notion of closely observing a few films and extrapolating that into an entire sub-genre will always cause some dissonance, but Clover clearly did her homework and has seen not only the famous horror movies, but also her fair share of obscure ones. Like the
Bechdel Test
, the perspective here is narrowed to gender, which of course, isn't the only perspective to have while watching movies. Also like the Bechdel test*, there's this notion that you have to take individual examples of something and treat it as a representative of a much broader trend. This doesn't make these analyses any less interesting though!
When you look at Siskel and Ebert's response to these films, then Clover's response (years later and with some unique perspectives), it's easy to see how much we inform our reactions to film ourselves. Siskel and Ebert saw only misogyny, which is not entirely incorrect, but Clover looked at the films differently and managed to find value. I think a lot of people would find both analyses absurd, and they wouldn't be entirely wrong about that either. People often complain that critics never represent the mainstream, perhaps because the mainstream never really concerns itself with context or perspective. They're looking to be entertained for a few hours on a Friday night, not discuss the reversal of gender politics or other such high-minded affairs. In the end, a book like
Men, Women, and Chain Saws
probably says just as much about Carol Clover as it does about the films themselves. You see what you want to see in movies, and while that can be interesting, that's not always the whole story.
To a remarkable extent, horror has come to seem to me not only the form that most obviously trades in the repressed, but itself the repressed of mainstream filmmaking. When I see an Oscar-winning film like The Accused or the artful Alien and its blockbuster sequel Aliens, or, more recently, Sleeping with the Enemy and Silence of the Lambs, and even Thelma and Luise, I cannot help thinking of all the low-budget, often harsh and awkward but sometimes deeply energetic films that preceded them by a decade or more - films that said it all, and in flatter terms, and on a shoestring. If mainstream film detains us with niceties of plot, character, motivation, cinematography, pacing, acting, and the like, low or exploitation horror operates at the bottom line, and in so doing reminds us that every movie has a bottom line, no matter how covert or mystified or sublimated it may be. (Page 20)
* Interestingly,
horror movies tend to pass the Bechdel test
at a much higher rate than most other genres (just shy of 70% pass the test, as compared to stuff like Westerns or Film Noir, where it's more like 25%). This says nothing about the quality of the films or their feminist properties, but it's an interesting note...

Wednesday, November 20, 2013
Link Dump
Moar links from the depths of the internets, curated just for you!
And that's all for now...

Sunday, November 17, 2013
On The Bechdel Test
For the uninitiated,
the Bechdel Test
is meant to gauge the presence of female characters in film. In order to pass the test, a film must meet three requirements:
It has to have at least two [named] women in it
Who talk to each other
About something besides a man
The test is named after Alison Bechdel, a cartoonist who formulated the rule as a setup to a punchline in a 1985 comic strip for
Dykes to Watch Out For
(the punchline: "Last movie I was able to see was Alien...") There are many variants to the rules, but the one listed above seems to be the most common - it adds a requirement that the two female characters have to be "named" to avoid counting stuff like a female clerk giving a woman change or something (a reasonable addition). It has slowly but surely ingrained itself into the popular culture, especially on the internet in the past few years. Indeed, it's become so popular that it's now frequently used incorrectly!
BechdelTest.com
seems to be the best resource for this sort of thing, and the
statistics
are
interesting
. Out of 4570 movies, only 2555 (55.9%) pass the test.
The trend
does seem to be (very slowly) improving over time, but it's a pretty dismal portrait.
The Bechdel Test is far from perfect (more on that in a bit), but I do find it to be interesting for two reasons:
It's objective. Discussions of identity politics seem to angry up the blood, especially on the internets, so the removal of any subjectivity from the test is a good thing. These are facts here, not opinions.
It really does illustrate a certain type of gender imbalance in film. This is an important observation, if not the end-all-and-be-all of feminist criticism.
Alas, there are some rather severe limitations on this test:
It says nothing about the quality of the film in question. For instance, Citizen Kane and Casablanca fail the test. On the other hand, The Mortal Instruments: City of Bones (12% on Rotten Tomatoes) and The Smurfs 2 (14% on Rotten Tomatoes) pass.
It says nothing about how "feminist friendly" the film is. For instance: Showgirls passes the test, and while I don't have a specific reference for this next one, I'm positive that there are lesbian porn movies (made explicitly for the titillation of men) that would pass the test too.
This isn't mainsplaining or patriarchy speaking, these are
acknowledged
limitations of the test. Of course, finding ironic counterexamples is missing the point. It's not that a given movie passes or fails the test, what matters is when you look at the film industry as a whole.
This, however, is the biggest flaw of the test. It's a macro test applied at the micro scale. The test says nothing about an individual film's worth (feminist or not), but the test must be applied to individual films. This leads to a whole boatload of misunderstandings and misguided attempts to tarnish (or praise) a movie because it failed (or passed) the Bechdel test. BechdelTest.com is filled with objections to a given rating and debate about whether an individual film is feminist enough to pass and other such misunderstandings of the rules (for instance: something can't "barely" pass, it either does or doesn't).
This account of two students
attempting to dominate their class by using the Bechdel Test to dismiss any film that didn't pass is another demonstration. "They labeled any film that didn't pass the test as unworthy of praise and sexist. ... I'm not exaggerating in that statement, the pair literally dismissed Citizen Kane altogether and praised Burlesque." (Of course, as the first commenter notes, both the account and the two students were applying the test incorrectly).
Swedish movie theaters are instituting a new rating system
that labels films that have passed (I'm not entirely clear of the implications here, but it's still kinda missing the point).
The list could go on and on, but severe limitations like this make it clear that the Bechdel Test has a limited application. Of course,
there's nothing wrong with that
and it does illustrate something about the industry, but let's stop applying it where it doesn't belong.
Some other assorted thoughts on the Bechdel Test:
One of the things that has always irked me about the test is the lack of a stated baseline. I'd be curious to see what a "reverse" Bechdel Test would show, and I think it would give greater context to the numbers being thrown around. Yeah, a 55.9% pass rate sounds low, but what if the "reverse" test showed a similar number for male representation in movies? Of course, it's blindingly obvious that the male rate is significantly higher (my guess: 80%-90%), but it's worth noting that just because a movie fails the Bechdel Test doesn't mean it would pass the reverse test (in particular, I think the "about something other than a man/woman" rule would hit both sexes in the same movie pretty often. Having a baseline would better underscore the issue.
It's ironic that one of the test's biggest strengths, it's objectivity, is also one of its biggest weaknesses. This, however, is true for just about any objective measurement ever conceived (i.e. not just for film). Objective measurements only ever tell a small proportion of the story, and you can't judge an individual movie's worth by checking boxes on a form (unless those boxes are for subjective measurements). If the Bechdel Test is your only way of evaluating movies, you will get a very myopic view of the industry.
Are there better, simpler metrics that could illustrate a similar issue? For instance, in an industry where the Auteur theory seems to be generally accepted, the director of the film is considered to be the primary author. Guess how many movies are directed by women? It's somewhere on the order of 5%-10%, and most of them are tiny indies that you've never heard of... When you add in writers, producers, editors, etc... the numbers are still pretty low.
So what to do about the Bechdel Test results? I imagine this is where most arguments get really heated. I don't know the answer, but given the above bullet, it looks to me like we need more female filmmakers. Artists tend to focus on what they know, and since the grand majority of filmmakers are men, it's not surprising that female representation is low. How this would happen is a can of worms in itself...
It strikes me that the misunderstandings and limitations surrounding the Bechdel test are emblematic of debate surrounding identity politics in general. In particular, the resolution of individual/group dynamics is what trips a lot of people up (i.e. the Bechdel test says nothing important about individual movies, only groups of movies, yet because of the need to apply the Bechdel test at an individual level, the discussion often stays at that level). When it comes to insidious systemic issues like this, there's a narrow line to walk, and it's very easy to veer off the path.
Well, I think I've blabbered on long enough. What say you?

Sunday, November 10, 2013
Link Dump
It's been a goofy week for the blog. One of the great things about paying for your own webhost is that you have control over everything. One of the bad things is that... you have control over everything. So when stuff goes wrong, you have to spend some time fixing it. Fortunately, that's relatively rare these days, but I had some trouble this week with an "upgrade" to mysql and perl which left various pieces of blog functionality (like commenting) inoperable (it also caused me to miss a post, sorry!) This should be all taken care of now, so look for the return of regularly scheduled programming. Anywho, time is short and I'm seeing Thor tonight, so here's a few links from the depths of the internets. Enjoy:
That's all for now!