Sunday, September 25, 2016
6WH: Week 2 - When Animals Attack
The killer animal sub-genre is a pretty goofy one, though some classics have emerged, notably the likes of
Jaws
and
The Birds
. But then, not everyone is Steven Spielberg or Alfred Hitchcock and most efforts come off less successfully. Let's see if any of these filmmakers can step up:
A fun week, for sure. Stay tuned for kids getting lost in the woods and some Tobe Hooper...

Wednesday, September 21, 2016
6WH: Week 1.5 - Slasher TV
As sub-genres go, the slasher film is not particularly well respected. And yet it has its partisans, and I count myself among them. Longtime readers already know this, as I've
written about slashers
in a
general sense
many times
, and
covered
lots of
specific
slashers
during
previous
Six Weeks of Halloween
marathons
. While the sub-genre has fallen greatly from its heights in the early 80s and temporary revival in the mid 90s, the past year has inexplicably seen not one, not two, but three attempts to bring slashers to television. I was
not terribly impressed with Scream Queens
last year and never got around to the other two. Now that they're both streaming on Netflix, I figured I should hop to it:
I'm guessing I will finish both of these series during the Six Weeks, so I'll be sure to keep you updated as I go. In the meantime, check out Zach's progress over at Film Thoughts. The man, the myth, the legend, Kernunrex has not checked in yet, but I'm sure we'll here from him soon enough... Anyways, up next: When Animals Attack!

Sunday, September 18, 2016
Six Weeks of Halloween 2016: Week 1 - Moar Giallos
The weather is turning, leaves are falling, decorative corpses are showing up at grocery stores, the pumpkin spice is flowing... it must be my favorite time of year! To celebrate, I always embark on a
six week long horror movie marathon
. That's like two weeks longer than most Halloween movie marathons, because we're awesome and Halloween totally deserves the extra time and attention.
This year we kick things off by returning to our Italian roots and watching some Giallo films. We've covered many
Giallos
before during the
marathon
, but I haven't ventured far from the big names like Mario Bava, Dario Argento, and Lucio Fulci, so I figured it was time. Giallos have their roots in pulp fiction and cheap crime novels which, when published in Italy, often featured yellow covers (hence "Giallo" which is just Italian for "Yellow"). They were prefigured by The German Krimi films of the 50s and early 60s and themselves presaged the Slasher boom of the 80s. It's a pretty wide-open genre, generally a murder-mystery type, but with dense, complicated plots, lurid nudity (all three of the below feature frequent nudity), gruesome killings, and lots of other trashy components. Again, I've seen many of the most prominent examples, but not a lot of the obscure ones, so I took a swing at these three. The first is reasonably well known and widely available. The next two were out of print (or were only available in horrible pan-and-scan abominations) but just came out in a
handsome two movie set
with a great restoration and lots of special features (including fantastic commentary tracks). One thing I really love are the baroque titles, often very long and evocative. I wound up enjoying all three of these (admittedly flawed) movies quite a bit, so let's dive in:
Those were indeed fantastic and I may just have to dip my toes into more giallos later in the six weeks. Up next, though, are killer animals. Stay tuned.

Sunday, September 11, 2016
SF Book Review, Part 24: The Killer B's
Without going to far into the history of Science Fiction, there was a revival of epic, large-scale Hard SF in the 1980s led by three authors: David Brin, Greg Bear, and Gregory Benford. Dubbed the "Killer B's", they seemingly incorporated the strengths of New Wave authors while returning the genre to its rational, optimistic, Campbellian mode. Less navel-gazing, less counterculture, less dreary pessimism... Interestingly enough, it feels like we could use another such revival these days. Alas, we seem to have descended into an ill-advised political morass, misdiagnosing core SF tenants for political victimhood. It sometimes feels like there's no escape in modern SF (this is probably something worth exploring in its own post sometime, not in a short intro to some reviews)... but luckily, I have plenty of books like these to discover. Three are from the Killer B's, the other two are just from authors whose last name starts with a B (and one isn't even SF!) Cheating? If you say so. Let's stop quibbling and get to the books:
And there you have it. The Six Weeks of Halloween fast approach, so put your horror hat on, it's going to be a bumpy, terrifying ride.

Sunday, September 04, 2016
Fantastic Feud
Every year, during the Fantastic Fest horror/action/weird film festival, they play a game of
Family Feud, but with more horrific questions
. They poll the internets in advance to get the survey answers, and these are the questions this year. In the spirit of those
film quizzes
I love answering, here are my responses. Note that because of the feud context, I'm going for more obvious answers here, even if I sometimes note something more obscure.
1. Worst John Carpenter Movie
Ghosts of Mars
, with strong competition from
Vampires
and maybe even
Memoirs of an Invisible Man
.
2. Best Sequel Subtitle
That would almost certainly be
Breakin' 2: Electric Boogaloo
. I'm also partial to
House II: The Second Story
, but that's almost certainly too obscure (even for the FF crowd). I like
Die Hard 2: Die Harder
(in a so bad it's good kinda way) but I'm not sure how official that is (it's not listed as such on IMDB, but it's almost always referred to that way).
3. Favorite Lethal Lady of Film
That would be Ripley from
Alien
/
Aliens
, but I'm guessing you'll also see The Bride from the
Kill Bill
movies and Furiosa from
Fury Road
.
4. Most Successful Alien Invasion
Invasion of the Body Snatchers
comes to mind for me, but someone mentioned
The Thing
, which is an interesting spin on this one
5. Cult Film Unworthy of Its Reputation
For me, it's
Starship Troopers
. Lots of leeway here, but some other good answers would be
The Boondock Saints
and
Donnie Darko
. You could argue
The Big Lebowski
, but you'd be wrong (er, maybe).
6. Stupidest Artificial Intelligence
Almost certainly C-3PO from the
Star Wars
movies. Skynet, especially in the sequels, would also be a good choice.
7. Worst Horror Movie To Watch on a First Date
My first thought goes to
Martyrs
, but this being Fantastic Fest,
A Serbian Film
will certainly place in the survey...
8. Most Lovable Monster
Gizmo from
Gremlins
works well here. I want to say Aylmer from
Brain Damage
, but he's not really "lovable" so much as I like his cheerful villainy.
9. Remake That's Better Than The Original
It's boring saying
The Thing
and
The Fly
for these questions, but here we are. More unconventional picks:
Ocean's Eleven
,
Ben-Hur
(1959), and
The Departed
.
10. Deadliest Assassin/Mercenary/Hit-person
Anton Chigurh from
No Country for Old Men
will place highly here.
The Killer
and
Leon: The Professional
will get some love here too.
11. Sequel That *Almost* Killed The Franchise
Batman & Robin
seems appropriate here, as it put the franchise on hold for almost a decade...
12. Scariest Plant(s)
The tree from
The Evil Dead
works here, though I guess you have to also mention
The Little Shop of Horrors
13. Most Rousing Revenge Flick
I'll go
Oldboy
, but there are probably a dozen other good answers. They're mostly Korean, as they apparently love them some vengeance.

Sunday, August 28, 2016
Link Dump
As per usual, just a random assortment of ye olde links from the internets:
"Team Thor" Comic-Con Video - I heard about this a while back and thought it sounded fun; it's finally been released, and lo, it is very fun. If you like the Marvel movies, you should watch it. Potential nominee for Best Dramatic Presentation, Short Form for next year? I think so.
Aquaman, King of the Seven Seas, Has Fucking Had It With You, Man. This will naturally become more relevant the further we get into DC movie universe land.
Getting to the Heart of David Letterman - Interesting nugget in this interview with David Letterman:

DL: We did this television show - my friends and I - for a very long time. It's probably like anyone else's professional pursuit. When you are doing it for so long, and for each day - I have always likened it to running a restaurant—because you get response to the day's endeavor immediately. Either from the audience or the ratings, but you know as early as the next day how you did.

And because of this introspection, you believe that what you are doing is of great importance and that it is affecting mankind wall-to-wall. And then when you get out of it you realize, oh, well, that wasn't true at all. (laughter) It was just silliness. And when that occurred to me, I felt so much better and I realized, geez, I don't think I care that much about television anymore. I feel foolish for having been misguided by my own ego for so many years.

I don't think you need to feel foolish for working on things, but it's a good idea to keep things in perspective. If we were all this introspective, the world'd be a better place.
Mary Carillo's Badminton Rant - I went on an Olympic badminton jag on YouTube and wound up at this video which is absolutely glorious.
On 'Going Away' - It doesn't go where you'd expect, but it's always worth reading Julieanne Smolinski:

When I was in junior high school, my broke single mom got her first decent paycheck and took my sister and me on a trip to a small, sparsely populated, tremendously beautiful island in the Caribbean.

All local transport there had to be secured through a man named Scooter Dave. Scooter Dave looked like Captain Ron's tartar-sauce stained rap sheet. I remember him telling us some suspect origin story about fleeing a dull corporate job for the island life, but he was almost certainly fleeing something more sinister. He lived in an actual beach shack and each night, could be seen at our hotel bar, spinning raunchy yarns for uneasily entertained guests while palming a miniature snifter of rum as though it were a small, shapely breast.

Heh.
Why 'Stranger Things' worked while 'Ben-Hur' and 'Ghostbusters' went wrong - It's not a mind-blowing sentiment, but it's well put and apparently needs to be said since we're drowning in uninspired remakes and sequels right now:

"Stranger Things" was a wholly original confection, one with a pleasing synth-soundtrack aftertaste. It's the story of a trio of boys teaming up with a little girl who has superpowers to track down a friend who has been kidnapped by a monster. And it's the story of a mother's love for her lost son, her refusal to give up searching for him in the face of interference (and worse) by the federal government. And it's also the story of teenage angst, young lovers coming to grips with the desires and their responsibilities in a world that doesn't particularly care for, or about, them.

Sure, there are echoes of "E.T.: The Extra-Terrestrial" and "It" and "The Thing" and even "Pretty in Pink" and "The Breakfast Club." Yes, there are classic 1980s touchstones, like Dungeons & Dragons and walkie-talkies and "Evil Dead" posters and cassette mix tapes. But any sense of nostalgia "Stranger Things" inspires in viewers is healthy, earned - because it comes wrapped in an original story, one that stands on its own whether or not you ever rolled a 20-sided die or swooned over a John Hughes creation.

Indeed. It's hard to make a generalized statement, but I usually tend to prefer something new and interesting over a note-for-note retread. This can be done in a remake, but it hasn't been done in most of the recent, inane remakes we've been inundated with lately. I don't usually want remakes or sequels, but rather, new and interesting things that make me feel the way the originals did. Sometimes a reboot or sequel can do that, but mostly they don't. Fortunately, there are lots of alternatives if you're willing to hunt for them. This weekend alone, I got Hell or High Water, Don't Breath, and Blood Father. None of those movies are perfect or even particularly great, but they're far above the grand majority of remakes/sequels we've seen lately. There's more to this idea, I think, so I'll save that for a later post. Er, yeah, I'll get to that sometime. Right.
And that's all for now.

Sunday, August 21, 2016
Hugo Awards 2016: The Results
The Hugo Award winners
were announced last night and I'm having a hard time caring all that much. I've played along with the Hugos for the past few years, but unfortunately, that roughly coincides with the rise of Sad/Rabid Puppy movements and by intention or not, the award and seemingly the entire field has become a politicized morass. Of course, this isn't new and this year fared significantly better than last year's disaster, so let's look closer. (Also of note: the
full voting breakdown
in case you wanted to figure out how instant-runoff voting works.)
And that's all for now. I've actually been reading some great SF of late (none of it is recent though) and we're about to shift gears into the most wondrous time of year,
The 6 Weeks of Halloween
horror movie marathon, so stay tuned.

Sunday, August 14, 2016
Professor Abronsius's Robustly Random, Eccentrically Inquisitive, Garlic-Infused Mid-Summer Back-to-School Movie Quiz
Dennis Cozzalio of the
Sergio Leone and the Infield Fly Rule blog has posted another of his famous movie quizes
, and as always, I'm excited to participate. Previous installments answering questions from
Professor Hubert Farnsworth
,
David Huxley
,
Professor Fate
,
Professor Russell Johnson
,
Dr. Smith
,
Professor Peabody
,
Professor Severus Snape
,
Professor Ed Avery
,
Dr. Anton Phibes
,
Sister Clodagh
,
Professor Arthur Chipping
,
Miss Jean Brodie
,
Professor Larry Gopnick
,
Professor Dewey Finn
,
Ms. Elizabeth Halsey
,
Professor Abraham Setrakian
, and
Mr. Dadier
are also available. Let's get to it:
1) Name the last 10 movies you've seen, either theatrically or at home
Zoinks! Good thing
I try to keep Letterboxd up to date
(if we're not friends there, we should be). Let's take a gander:
Phew, that's a lot of movies.
2) Favorite movie feast
The first thing that came to mind was Denethor's feast whilst he sends his son out to die in
The Lord of the Rings: The Return of the King
. I mean, it's not a fun scene, but for some reason very memorable, including the food being served (which looks tasty, I guess, certainly a feast).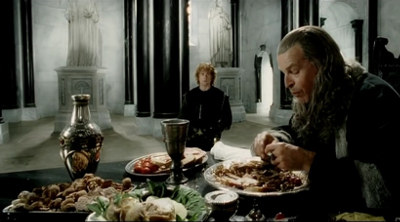 Upon further reflection, other candidates include: the scene in which Orson Welles interrupts his own movie to order more food in
F for Fake
, the titular meal in
Soylent Green
, the campfire scene in
Blazing Saddles
, and, of course, most scenes in
Tampopo
.
3) Dial M for Murder (1954) or Rear Window (1954)?
I love both of these movies, but
Rear Window
strikes me as the more well-rounded choice whereas
Dial M for Murder
feels like trash elevated to greatness solely by Hitchcock's force of will (nothing to sneeze at, for sure, but
Rear window
has it all).
Rear Window works on many more levels
, even if I'd watch either of these again in a heartbeat.
4) Favorite song or individual performance from a concert film
Honestly not a big fan of concert films. Does
The Blues Brothers
count? I kinda like that one, I guess.
Excluding another film from the same director, if you were programming a double feature what would you pair with:
5) Alex Cox's Straight to Hell (1986)?
I have never seen this, but now I want to. From the description, I'll go with
The Wild Bunch
. Looking at other answers, though, I see
Reservoir Dogs
and am now kicking myself.
6) Benjamin Christensen's Haxan: Witchcraft Throughout the Ages (1922)?
I've actually seen this one! I'll go with this year's exquisitely staged
The Witch
as the pairing (though maybe
The Blair Witch Project
would be more fitting, given its more explicit mock-documentary nature... but then,
The Witch
has so much verisimilitude that it approaches mock-documentary as well. Hrm.)
7) Federico Fellini's I vitteloni (1953)?
Another one I have not seen, but from the description alone, the answer has to be
American Graffiti
, right?
8) Vincente Minnelli's The Long, Long Trailer (1953)?
Not seen this one either, but judging from the description, let's say
Bonnie and Clyde
.
9) Sam Peckinpah's The Ballad of Cable Hogue (1970)?
Again, I have not seen but from the description, let's say
McCabe & Mrs. Miller
.
10) George Englund's Zachariah (1971)?
Nope, not this one either (I'm the worst), but judging from the description, let's just say
El Topo
... though I should probably watch Zachariah first because it seems vaguely irresponsible to recommend
El Topo
without really confirming that it fits.
11) Favorite movie fairy tale
The Princess Bride
seems an obvious choice here. I suppose nostalgia plays a role in how much I like this movie (I mean, I was basically the Fred Savage character - a kid sick and in bed, objecting to the same girl cooties moments, etc... - when I first saw this), but I've seen it recently and it still retains that almost timeless fairy tale feeling.
12) What is the sport that you think has most eluded filmmakers in terms of capturing either its essence or excitement?
Wrestling. No, not professional WWF/WWE stuff, the amateur stuff that'll be on the Olympics at 3 am on CNBC sometime late next week. Few movies have even attempted it, notably
Vision Quest
(oy) and
Foxcatcher
(a slog, not really about wrestling, per say). Of course, I'm not really holding my breath on this one either.
13) The Seventh Seal (1957) or Wild Strawberries (1957)?
The Seventh Seal
I guess? I mean, not really a fan of either (or, sadly, Bergman in general - remember this when we get down to the blasphemy/contrarian question below)
14) Your favorite Criterion Collection release
First thought is
Brazil
, an epic three-disc study in commercial filmmaking. There are lots of better movies in the collection, but it's the extras here that put it over the top. Troubled productions are always more interesting than normal ones, even if the resulting film (and various cuts) never quite live up to the promise of the material.
15) In the tradition of the Batley Townswomen's Guild's staging of the Battle of Pearl Harbor and Camp on Blood Island, who would be the featured players (individual or tag-team) in your Classic Film Star Free-for-all Fight?
Hell, I don't know. Let's just name some people: John Wayne, Humphrey Bogart, Clint Eastwood, Dick Miller, Toshiro Mifune, Jackie Chan, Sammo Hung, Michelle Yeoh, Raquel Welch, Tuesday Weld, Sigourney Weaver, Audrey Hepburn, Katharine Hepburn, and Rosalind Russell.
16) Throne of Blood (1957) or The Lower Depths (1957)?
Well, I've actually seen
Throne of Blood
, so I guess that sez something, eh?
17) Your favorite movie snack
I'd say popcorn, but usually when I go to the movies I get soft-pretzel bites. They're usually terrible too, but good theaters (i.e. that time I went to Alamo Drafthouse) sometimes do homemade soft pretzels that are awesome, and I love them. But popcorn is the safe answer, as that's always actually available, and usually fresh popped.
18) Robert Altman's Quintet-- yes or no?
I have never seen it, but I think that if you look at my answers to all of these "yes or no?" questions over the years, I can safely say "yes" (since, you know, I've never said no in answer to one of these questions, ever.)
19) Name the documentarian whose work you find most valuable
Errol Morris works here. Opened my eyes to great documentary filmmaking with
The Thin Blue Line
, and has continually surprised me throughout his career, even with supposed trivialities like
Tabloid
.
20) The Conversation (1974) or The Godfather Part II (1974)?
The Godfather: Part II
, though that's a pretty fabulous one-two punch for 1974. Still, something about the
Godfather
's epic sweep bowls me over in ways that
The Conversation
never has...
21) Favorite movie location you've visited in person
Can't say as though I actually seek out movie locations, but I do love the Philly Art Museum steps from
Rocky
, and it's even better at night (looking back through the city, all lit up, is nice).
22) If you could have directed a scene from any movie in the hope of improving it, what scene would it be, and what direction would you give the actor(s) in it? (question submitted by Patrick Robbins)
This is an impossible question, but I came up with an answer because this movie comes up again below: There's a scene in
The Thing
where Wilford Brimley has been locked up in the shed for a while, but kinda escaped into some underground tunnel and started... building a spaceship? Out of junk that was laying around? I would have reshot this scene such that the spaceship would not be completely visible and thus would be more ambiguous as to what it actually was (I would also revise the dialog to maintain the ambiguity). All you need to know is that he was up to something, not that it was actually a spaceship, because the spaceship is sad looking and stupid.
23) The Doors (1991) or JFK (1991)?
Hands down,
JFK
. It's just an inherently more interesting premise, and it's extremely well executed, even if it's almost certainly all hooey.
24) What is your greatest film blasphemy or strongest evidence of your status as a contrarian? (H/T Larry Aydlette)
There's several examples above (i.e. disliking Linklater's talky pieces, indifference to Bergman, not having seen the majority of movies explicitly referenced in this quiz, etc...), but I'll say as a general point of blasphemy/contrarianititvity, I don't like slow, plotless films. It's not that they can't be good or that I can't appreciate them at all, it's just that a film has to be really, really good in order for me to really get into it, and apparently my threshold for this sort of thing is much higher than most critics/film lovers. Go figure. I was much more willing to put up with this kind of indulgent wanking earlier in my life, but I'm getting to an even more impatient point in my life now, I guess. Maybe I'll rebound, but I'm not counting on it.
25) Favorite pre-1970 one-sheet
This question was sorta
asked before on Ms. Halsey's quiz
, only it didn't limit the timeframes. My answer then was the one-sheet for Vertigo: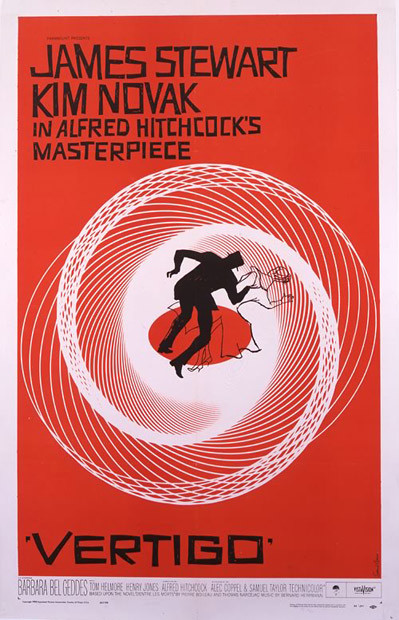 Indeed, a classic, even if there are probably hundreds of others that I'd like just as much, like:
2001: A Space Odyssey
,
Nosferatu
,
The Cabinet of Dr. Caligari
,
Dr. Strangelove: or, How I Learned to Stop Worrying and Love the Bomb
,
Anatomy of a Murder
, and
Metropolis
.
26) Favorite post-1970 one-sheet
I mean,
Jaws
, right?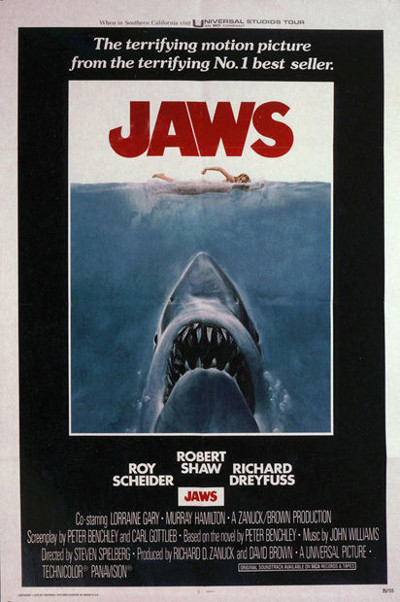 But that's probably too obvious, so let's go with
Halloween
: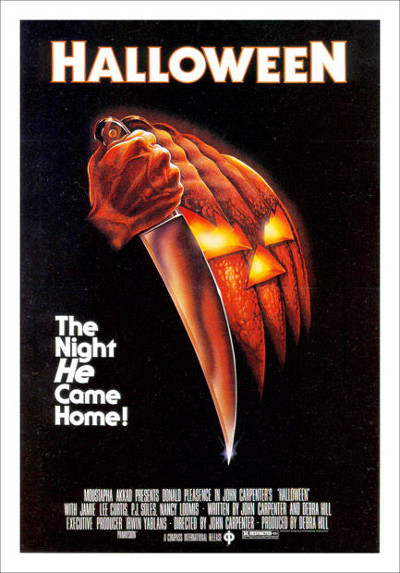 Also of note:
Alien
,
Star Wars
,
E.T.
,
The Godfather
,
The Exorcist
,
Indiana Jones and the Raiders of the Lost Ark
27) WarGames (1983) or Blue Thunder (1983)?
WarGames
is the more memorable and probably more prescient of the two, I think.
28) Your candidate for best remake ever made
Either John Carpenter's
The Thing
or David Cronenberg's
The Fly
. They're both so good that I find it impossible choose between them though.
29) Give us a good story, or your favorite memory, about attending a drive-in movie
Sadly, I do not have
any
memories of drive-in theaters and it's quite possible that I've never been to one. I suppose I was old enough, and it may have happened, but I don't think so. My parents weren't much into movie theaters in general and my movie-going heyday began in the late 80s, early 90s, at which point, drive-ins were mostly dead.
30) Favorite non-horror Hammer film
The Hound of the Baskervilles
might skirt horror I guess, but it will have to do, and it's really about the subversion of horror, so I feel ok with that.
31) Favorite movie with the word/number "seven" in the title (question submitted by Patrick Robbins)
It feels so boring to say
Se7en
or even
Seven Samurai
, but then, here we are.
32) Is there a movie disagreement you can think of which would cause you to reconsider the status of a personal relationship?
Nope. I suppose such a thing is possible, but I can't imagine that being the
only
thing at work in that particular relationship (i.e. it would be the tip of an iceberg in a much deeper component of our relationship).
33) Erin Brockovich (2000) or Traffic (2000)?
Traffic
is more stylistic and tackles a subject that is orders of magnitude more complicated without resorting to any trickery. Both are good movies though.
34) Your thoughts on the recent online petition demanding that Turner Classic Movies cease showing all movies made after 1960
I suppose I can see the thought process here, but they seem to maintain a pretty good mix right now (i.e. heavy on the pre-1960 stuff, but not exclusively so) and I'm generally not one for arbitrary rules like this. Not something I'd sign on to, but more power to you, I guess.