Sunday, October 04, 2015
6WH: Week 3 - Frank Henenlotter
The "Obscure Horror Auteurs" theme continues with the grossest auteur yet, Frank Henenlotter. With his trademark combination of shameless bad taste and an almost complete lack of self-restraint, Henenlotter made quite a name for himself in the 80s and early 90s, after which he became involved with
Something Weird Video
, a film distributer specializing in rescuing obscure exploitation films (most notably the gory films of Herschell Gordon Lewis). He made a brief return in 2008, but has essentially remained silent since the early 90s. In terms of what he goes for, it's, uh, difficult to really encapsulate. His movies are generally set in pre-Giuliani New York, they go for sleazy melodrama, often touching on the intersection of sex and gore, and they are, of course, very low budget. I can't say as though I love his aesthetic, but it's sometimes fun to spend some time in the gutter, you know?
Well that was fun? Lets, uh, take a break from this whole Obscure Horror Auteurs thing and maybe go a little more lighthearted next week, shall we? I've got plans for some horror dummies and comedies, and perhaps even a currently playing post in the works. Stay tuned!

Sunday, September 27, 2015
6WH: Week 2 - Larry Cohen
Continuing with the theme of "Obscure Horror Auteurs", this week we tackle Larry Cohen. As B-Movie filmmakers go, he's pretty successful and some of his films have become well known. He made his name with some blaxploitation flicks like
Black Caesar
, but pretty quickly transitioned over to more traditional genre fare like the films we're looking at today. There are a bunch of other Cohen movies worth watching that I won't cover, like
The Stuff
or
Q: The Winged Serpent
. In general, Cohen likes to mix his sleazy premises with social commentary and while it's not often subtle, his pet concerns do give his films a veneer of relevance that, um, keep them relevant today. Let's get started:
Another common theme that emerges out of all these movies? Cohen loves a good media leak. Whether it's initiated by our heroes (both
Maniac Cop
movies and
God Told Me To
) or whether our hero is simply suffering from the consequences of a leak (
It's Alive
), it's always there. And the consequences of the leak are always ambiguous. In
Maniac Cop
, no one trusts the police and we even see one random pedestrian shoot a cop in a panic. Heck, media leaks even play a role in
The Stuff
. Larry Cohen clearly has some thoughts on news media influence. I think I might just have to rent
Maniac Cop III
tonight to see if the pattern holds. Anywho, stay tuned for more obscure horror auteurs next week!

Thursday, September 24, 2015
6WH: Wes Craven's Twilight Zone
These days, we tend to look askance at reboots and remakes, but it's not like it's a new thing. In the mid-80s, CBS revived the beloved 50s/60s classic Twilight Zone television series, and looking back on it now, they managed to assemble a pretty impressive amount of talent at the time, including: Stephen King, Ray Bradbury, Theodore Sturgeon, Greg Bear, Arthur C. Clarke, Joe Haldeman, Robert McCammon, Harlan Ellison, Roger Zelazny, Robert Silverberg, John Milius, Joe Dante, William Friedkin, George R.R. Martin, Bruce Willis, Morgan Freeman, heck, even the Grateful Dead performed the new theme song. To kick the series off, they tapped Wes Craven, hot off the success of
Nightmare on Elm Street
. Craven would go on to direct seven segments of the show (mostly in the first season), most of which I have not seen, so
I thought it would be a fitting tribute
. Each show has two or three segments, so here's some assorted thoughts on each segment:
This was a pretty good run for Craven, and as mentioned above, allowed him to branch out and try something other than gruesome slashers or Swamp Things. He would go on to work on a few other shows, but nothing of quite this caliber. I'm glad I made the effort to watch these episodes though, and will almost certainly be posting about some other episodes in the coming weeks of Halloween! RIP Wes Craven, you will be missed.

Sunday, September 20, 2015
Six Weeks of Halloween 2015: Week 1 - Mario Bava-Thon
The most wonderful time of the year has rolled around, bringing with it the requisite leaf piles, mutilated pumpkins, paper skeletons, pumpkin spiced abominations, decorative corpses, "fun" cobwebs, and other oxymoronic traditions that are nominally ghastly but suddenly become socially acceptable during this season of seasons. To celebrate, I always embark on a
six week long horror movie marathon
. That's like two weeks longer than most Halloween movie marathons, because we're pretty awesome, that's why.
Today we examine a trio of films from Mario Bava, the godfather of Italian horror cinema and one of the more influential visual stylists of the 20th century. Bava is famous for his Gothic works and for popularizing
the Giallo sub-genre
(plus numerous pre-slashers), thus inspiring other Italian horror maestros like Dario Argento and Lucio Fulci. Bava is the first of what I'm calling "Obscure Horror Auteurs", though he's probably the least obscure of the ones I'm tackling (then again, he's obscure enough to general audiences, I think). Others will follow in the coming weeks.
It should be noted that I've already seen a good deal of Bava's work, so the below is actually filling in some gaps, rather than an ideal collection of his films. If you're looking for a good intro to Bava, go for
Blood and Black Lace
,
Black Sunday
,
Black Sabbath
, or
A Bay of Blood
(aka Twitch of the Death Nerve). I've
covered
some of
these
in past Six Weeks of Halloween posts. Several of these are available to stream on Netflix, and upstart horror streaming service
Shudder
recently had a big event. Check out this gif from
Kill Baby, Kill
: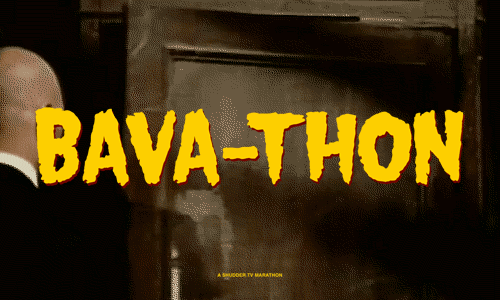 So let's get into it, here's three of Bava's lesser-known works:
That wraps up the first week. Stay tuned for another obscure horror auteur next week, the films of Larry Cohen! Also check out fellow practitioners of the six week marathon at
Kernunrex Six Weeks of Halloween
and
Film Thoughts
. Lots of fun stuff to come!

Wednesday, September 16, 2015
Stephenson's Fall
Buried in an excerpt of
Neal Stephenson's interview with Locus Magazine
is a throwaway line that mentions his next project:
Fall, featuring some characters from Reamde, is forthcoming.
Well that's interesting, isn't it? It certainly doesn't say much, and there's almost nothing else being reported out there. After many machinations, I managed to discover a slightly more descriptive notice at Publisher's Weekly (it has since gone off the first page and thus requires a login, but
Google Cache
still has it, and
this blog
picked it up as well):
NYT bestselling author, including the most recent SEVENEVES, Neal Stephenson's FALL, pitched as a high-tech retelling of PARADISE LOST featuring some characters from REAMDE, to Jennifer Brehl at William Morrow, in a major deal, for publication in Fall 2017, by Liz Darhansoff at Darhansoff & Verrill (World English).
The plot thickens. Sorta. I have no idea how a story about Lucifer's quest to poison God's most favored creation (with flashbacks to angelic wars) would play out in a high-tech fashion (with characters from a contemporary thriller like Reamde), but hell, I'm on board. And Fall of 2017 (I see what they did there) is not that far away in Stephensonian timescales (most books are separated by 3-4 years), so I'm sure we'll find out more in due time. While I have no idea how this will work, it's not at all surprising that Stephenson is working on a Milton-themed book...
No word on the series of historical novels
Stephenson teased in an interview a few years ago
:
Stephenson says he has returned to the past to tap a "similar vein" to that covered in his globe-spanning Baroque Cycle. "They're historical novels that have a lot to do with scientific and technological themes and how those interact with the characters and civilisation during a particular span of history," he says of the new series, refusing to be specific about the exact period.

"It looks like it will start with two back-to-back volumes.

"One of those is largely done and the other will be done early next winter. So I think [they will be released] mid-to-late 2014 perhaps - something like that."
Well clearly that didn't happen, as Stephenson must have switched gears to put out the long gestating
Seveneves
. No word as to when or even if these novels will ever happen. Whatever the case, I'm all aboard the Stephenson train, as per usual.

Sunday, September 13, 2015
The End of All Things
When John Scalzi started his little serialized publishing experiment a few years ago with
The Human Division
, it felt a little like a television series. Each story was self contained and episodic in nature, and Scalzi even went as far as to call each installment an "Episode". The book (unexpectedly and distressingly) even ended on a cliffhanger, and when he announced the sequel, he did so by saying that it had been "
renewed for a second season
". Well, the new season has finally arrived, in the form of
The End of All Things
.
To continue the television analogy, though, this is less like a season two and more like a mini-series. The first book/season consisted of thirteen stories/episodes, and they were very episodic in nature. There was a burbling background conflict that wound its way through, like one of those procedural TV shows that has a monster of the week, but an overarching conspiracy that gets mentioned every now and again. This new book/season only consists of 4 novellas (each of which is significantly longer than most of what preceded it), and instead of focusing on self-contained, episodic conflicts, this one focuses pretty intently on bringing that background conspiracy to the forefront in a more longform narrative way. As a result, this feels like a bit of a turn in the series, and lends itself to the mini-series analogy. This is all well and good, and the narrative here is more cohesive than the previous entry, but then, one of the things I loved about the first book was the way some of those standalone stories worked. So yes, this is more cohesive, but not quite as much as a normal novel, which makes it a bit of an oddity. Let's take a look at each episode.
The Life of the Mind
is the first story, told by Rafe Daquin, who is basically a brain in a box. He wasn't always that way, but here he tells us the story of how he became that way and what he did about it. It actually explains a lot about the mysterious disappearing ships from the previous book, but it is also the most clumsy story in the series in terms of exposition. Maybe Scalzi was concerned that the head-in-a-box thing would be confusing, but even inexperienced SF readers don't need you to repeat something three times or extrapolate every piece of information. I was a little concerned at the outset of this story because Scalzi's last novel, Lock In, also started with an unnecessary and egregious example of info-dumping. Fortunately, while this grated on me a bit, it wasn't nearly as bad as last time, and I was able to quickly move past it. I liked the character of Rafe and I liked where this novella went.
This Hollow Union
is up next, and it follows alien diplomat Hafte Sorvalh as she attempts to keep her Conclave of alien races together while dealing with those pesky human factions. You may remember Sorvalh as the Churro loving diplomat from the previous book, and it was nice to revisit her. While told from a different perspective, this basically continues the narrative set up in
The Life of the Mind
, in particular the fallout of various information leaks and revelations about third party factions out for their own purposes. It's a little talky, but it reminded me a bit of the previous book's focus on the diplomatic corps and while Lieutenant Harry Wilson shows up at one point, the zaniness factor isn't quite what it was. Since we're finally getting down into the details of the shadowy conspiracy hinted at in the first book, the tone is necessarily more serious here, and Scalzi did manage a few little surprises. All in all, a solid story.
Can Long Endure
is told from the perspective of a 4 person CDF squad as they're sent out on riot patrol, keeping the Colonial Union in line (instead of their normal conflicts with alien species). There's some of Scalzi's snappy dialog here, and that part goes pretty well. The story itself is a little repetitive and the ending is a little anti-climactic, but that's kind of expected for the penultimate episode of a series, right? It was my least favorite episode, but even then, it was a good story, well told.
To Stand or Fall
brings things to a close on a strong note. Due to its episodic nature, it's hard to call any one character the protagonist of the series, but the one man present throughout almost all the stories would be Lieutenant Harry Wilson. He's a fun character, and breathed fresh life into all the preceding stories whenever he showed up (even if only for a short time). Here, he's the viewpoint character, and while the overarching narrative has become more serious, Wilson's stories always feel breezy and fun. It helps the Scalzi is able to devise a plausible solution to the challenge facing our various factions and heroes (you can nitpick if you like, but I was more than willing to go with it).
As a whole, it all works out, even if it comes off a bit disjointed. That's just a natural result of the whole serialized publishing thing though, and I think the overarching narrative was pretty solid. Personally, though? I think I appreciated some of those lowish-stakes diplomatic missions from the first book a lot more. This sequel reminds me of a TV series that started out episodically, then got bogged down in the mythology and ended up devoting all its attention to the continuity story rather than coming up with a series of small, fun adventures for our heroes. I can't really fault the book for being something different than what I desired though, and it still fares really well in my book. I am on the fence with this one with respect to the Hugos though. None of the stories are really suitable for inclusion in the novella category (
The Life of the Mind
might be, but the glaring exposition issues make it a tough sell), but the disjointed nature of the narrative also makes best novel a tough sell. On the other hand, I liked this more than most of the stuff on the past two years' worth of novel ballots, so there is that! Of course, we've got plenty of time here, so there's no need to make snap decisions. Let's see how this one ferments in my head over the next few months. All of which is to say, this is a solid successor to The Human Division, and it resolves all the cliffhangery elements of that first book well. The resolution here does not seem to lead to a natural third "season", but who knows? I would certainly like to spend more time with some of these characters...

Wednesday, September 09, 2015
Recent Podcastery
I don't listen to podcasts as often as I used to because all these audiobooks aren't gooing to listen to themselves, but after a few of my old standbys went dark lately, I decided to look for some new ones, and what do you know, a few of them fell into my lap. I'm sure there are plenty of others I should be listening to, but these are the ones that struck a chord recently:
And that's all for now. Go forth and listen to yonder podcasts.

Sunday, September 06, 2015
Wes Craven
As per usual, I'm a week late to this post, but Wes Craven passed away on August 30 after a fight with brain cancer. I'm not normally in the habit of writing this sort of thing, but since we're heading into my favorite time of the year, the fabled Six Weeks of Halloween horror movie marathon, I figured I should look at Craven's oeuvre and perhaps find something of his I haven't seen before (or, perhaps, something to revisit).
As genre filmmakers go, I'm hard pressed to think of a single, more influential horror director. I mean, maybe Alfred Hitchcock (do you consider him horror?) or Mario Bava (probably too obscure for most folks), but that's fine company to keep. You could make an argument for Craven's contemporary, John Carpenter, as he does have two classics to his name (
Halloween
and
The Thing
), but he also veered away from horror and managed to produce a string of mediocre (at best) films later in his career. Craven, though, has directed three of the genre's most iconic and influential films. Oh, and he did it across
three decades
.
The Last House on the Left
was Craven's first film (1972), and in some ways it shows. But it's also a clear example of what Craven always manages to do. It's a crude, nasty film that taps into something dark and raw. That's, uh, a good thing when it comes to horror movies.
A Nightmare on Elm Street
(1984) is slicker and more commercial, but no less effective because of that. Indeed, its brilliant premise is the purest distillation of horror ever committed to film:
a monster that gets you in your dreams
. Inescapable and supremely terrifying (especially to my childhood self, who was stricken with fear before even having seen the film), the film's inferior sequels only serve to illustrate Craven's ability to tap into something elusive and terrifying. Craven's X factor only returned to the series when he retook the reigns for
New Nightmare
, a winking, fourth-wall shattering exercise that was really more of a dry run for his third genre classic: 1996's
Scream
. Another winking, self-referential exercise, this one captured audience's imaginations and revived a flagging genre right when it needed it the most. It wasn't the first film to attempt this sort of thing, but it's the best. Craven's also got a large catalog of underrated works that are often more effective and influential than you'd think. Stuff like
The Serpent and the Rainbow
or
The Hills Have Eyes
are relevant to this day. Even his out and out failures contain that Craven X Factor that gets under your skin and never lets go. I mean, yeah,
My Soul to Take
isn't his best work, but man, I could see that thing garnering a cult following someday (and apparently,
Shocker
already
does
!)
Yet by all accounts, he was one of Hollywood's kindest, sweetest fellas. He had a
rough childhood
, but apparently worked that out on screen, rather than by lashing out at folks. For an example of his good-natured spirit, check out
this story from Edgar Wright
:
The intertextuality of 'Scream' was a surprise to some, but in reality there was a winking side to Craven's movies that goes all the way back to 1977's 'The Hills Have Eyes'.

That film began a series of funny intertextual references between horror film directors that became a game of one-upmanship. In the first 'Hills Have Eyes', there was a ripped poster for 'Jaws' on the wall of a ravaged trailer, as if Craven was saying 'that's not scary, this is scary'. Then in response Sam Raimi featured a ripped 'Hills Have Eyes' poster in the cabin in 'The Evil Dead'. Craven's reply to this was to have his characters watching 'Evil Dead' on television in 'A Nightmare on Elm Street'. Finally Raimi responded once again by putting the iconic razor glove of Freddy Krueger, in the basement of the cabin in 'Evil Dead 2: Dead by Dawn'.

I loved this running gag between horror directors. So you can imagine my answer when we got word that Craven wanted to use a clip of our film 'Shaun Of The Dead' in 'Scream 4'.
Horror is a weird genre that often forces viewers to grapple with tough questions, not the least of which is often "Why the hell am I watching this depravity?" If you've ever seen an interview with Wes Craven, you'd get a pretty eloquent response. He's always a welcome sight in horror documentaries and was even compelling in his short appearance on Project Greenlight's third season. I can't put it any better than Scott Tobias: My initial plan for this year's Six Weeks of Halloween was to cover a series of "obscure horror auteurs", and while Craven is certainly an auteur, he's anything but obscure. Still, while I plan on tackling those other, obscure directors, I may have to dedicate some time to finding something from Craven that I haven't seen (there are only a handful, if that). In the meantime, I'll leave you with this: